Pattaya is a town on Thailand's eastern Gulf coast known for a wild nightlife scene that attracts international visitors, weekenders from Bangkok and expats. A quiet fishing village as recently as the 1960s, it's now lined with resort hotels, high-rise condos and a large seaside mall. Jet-skiing and parasailing are popular activities at Pattaya's busy beaches.
The city of Pattaya is a special municipal area which covers the whole tambon Nong Prue (Nongprue) and Na Kluea (Naklua) and parts of Huai Yai and Nong Pla Lai. Bang Lamung township which forms the northern border of Pattaya covers parts of the tambon Bang Lamung (Banglamung), Nong Pla Lai and Takhian Tia. Bang Sali is on the southern border of Pattaya.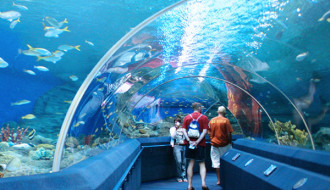 "Greater Pattaya" occupies most of the coastline of Banglamung (one of the eleven districts that comprise Chonburi Province). It is divided into a larger northern section which spans the areas to the east of Naklua Beach (the most northern beach) and Pattaya Beach (the main beach) plus Pratamnak Hill (often called "Buddha Hill" because of the temples on top of the hill) headland immediately south of Pattaya Beach, and a smaller southern section covering the area to the east of Jomtien Beach (which lies directly south of Pratamnak Hill). (excerpt from wikipedia)
Central Pattaya - Pattaya Klang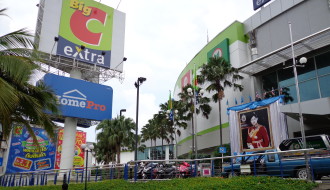 Pattaya Klang, or Central Pattaya, is a little funkier than the Northern district. The hotels are not so grand, the restaurants smaller, and here you will find the beginning of Pattaya's bar-beers, or open-air bars. There are plenty of tailor shops, and some go-go bars. Pattaya police station, and the Immigration Office are here. Two main shopping malls, the Royal Garden Plaza and Mike's Place, are both in Central Pattaya. In addition to the action along Beach Road, many of the sois are very lively: Soi Post Office, and Soi Pattayaland 1, 2 and 3 in particular. There is a Tourist Police office on Beach Road near the junction with South Pattaya's Walking Street. The sois will all take you through to Second Road, where there are more bars and restaurants, and a couple of dive shops. There are many small hotels and guesthouses here, offering good value accommodation and no-frills Western and Thai dining.
North Pattaya / Naklua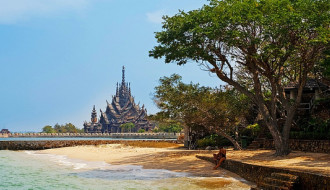 Naklua means "salt fields", after the main occupation of the area before the rise of tourism and industry. There is still the air of an ancient village to Naklua today, for here you will see old wooden houses and narrow streets, traditional noodle shops and working fishing boats. The old houses over the creek are especially picturesque, and a walk through the streets will reveal plenty of little shops selling handicrafts and domestic goods. The Dolphin Roundabout and the beginning of Beach Road mark the junction with North Pattaya, and the surroundings change dramatically.This is the classy end of the resort, with upmarket hotel and restaurants facing out over the beach. Here too you can begin a pleasant walk along the bayfront, for a recently built promenade will take you along the shore under the palm trees right up to through to the back part of Pattaya, known as Second Road. There are more major hotels here, along with shopping areas, bars, clubs, and a Tourist Police office.
South Pattaya / Pattaya Tai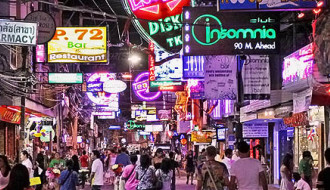 South Pattaya Road curves sharply off from Beach Road, taking the traffic away from this busy district which is now known as Walking Street. A relatively recent development , this pedestrians only zone is welcome relief, allowing visitors to browse amongst the endless little shops offering fast tailoring services, sports goods, jewelry and souvenirs. Here too the bars are almost endless, as are the big seafood restaurants, several of them built out over the ocean and offering pleasant surroundings to enjoy you meal. South Pattaya tends to be older, brasher and busier than the remainder of the city. You can walk uninterrupted all the way through to the Siam Bayshore Hotel and Arthachinda Road, which effectively marks the boundary of South Pattaya. Take any of the sois, no matter how tiny they may seem, to make you way through to Pratamnak Road, the back part of Pattaya which links up with Second Road.
Around Jomtien Beach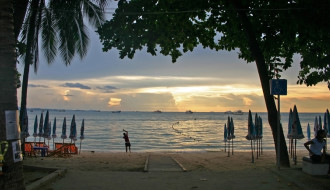 As is so often the case in Thailand, you will see several different spellings of "Jomtien". This district, with its 6km beach, is divided off form the rest of Pattaya by the hill which rises to the back of South Pattaya. Drive over the hill, past the big Buddha and the Royal Cliff Hotel, and down into the relatively quiet Jomtien. The beach is popular with windsurfs and water sports enthusiasts, largely because the area enjoys brisk and fresh breezes sweeping inland from the Thai Gulf, and because the seas are less congested with boats than in Pattaya Bay. This is also the place to relax for a suntan, of go for long early morning or sunset walks along the oceanfront. There is little in the way of shopping or beer - bars at Jomtien, which is essentially a residential area with beachside hotels, bungalow complexes, condominiums and restaurants. Jomtien has its own very distinctive gay beach, accessed by turning right at the bottom of the hill; for all other attractions, turn left. Garden in Pattaya Pattaya Klang North Pattaya/ Naklua South Pattaya/ Pattaya Tai Jomtien
KOH LARN ISLAND

Koh Lan or Coral Island
Koh Larn, was once known as a coral island, as popularized by foreign tourists. Bearing such name is by virtue of its abundance and variety of corals. It consists of minor islands such as Koh Khrok (mortar) and Koh Sak (pestle). It is truly a sought-after island for enthusiasts of coral snorkeling, sheer white sandy beaches and cerulean blue sea - an image of Andaman Sea. The Island, so close to Pattaya, sees more than 5,000 tourists daily
Koh Larn is conveniently located 7.5 km away from Pattaya City, occupying 3,500 rai with an irregular pentagon shape. Its length stretching from North to South is approximately 4.65 km. Whereas the maximal width is 2.15 km. 90% of the area is mountainous, nestled in the forest with a bountiful variety of trees. It offers spectacular variety of places to visit as well as hide-away beaches for tourists to enjoy.
Koh Larn Beaches
Ta Waen Beach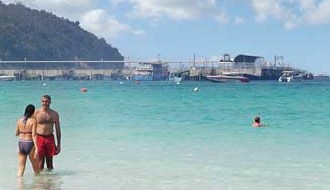 Featuring the northernmost of Koh Larn, you will have most reputed Ta Waen Beach, ​famous for its 750m long and fine golden sand curving the Island. Dazzling white sand contrasts against crystal clear blue water. The beach is particularly well-liked among Asian holiday makers. Other than the pleasure of swimming, you can enjoy various exhilarating water activities such as teenagers' most popular banana boats, and scampering jet-skis.
Thong Lang Beach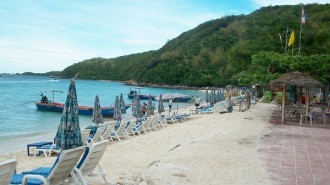 Thong lang beach, a small-sized beach abounds with tranquility, a must for those who seek a true, private and relaxing atmosphere. Major activity here is shallow-water coral snorkeling. A "sea walker" service is also offered where coral enthusiasts can enjoy another way to view underwater corals. The service costs about 1,500 Baht per person. For those who cannot snorkel, a glass bottom boat service can be found on Thong Lang Beach.
Sangwan Beach
Sangwan Beach is a small beach adjacent to the Ta Waen Beach with 150 m. long. Its beauty is not second to Ta Waen Beach, only it offers more true respite that oozes with private and tranquil surroundings which attracts more tourists from Europe.
Thien Beach
Thien beach stretches out 500 m. to the west of Koh Larn. Popular among Thai and European vacationers alike, the beach has the best to offer for water sport facilities such as jet skis and banana boats, but less zesty ambience than at Ta Waen Beach. It is a more peaceful beach. Basically visitors enjoy more of relaxing activities, i.e., swimming, sun bathing and traditional Thai massage.
For overnighters at Thien Beach, bungalows and tents are provided for hire. However, for more luxuries and splendors, Samae beach is better.
Samae Beach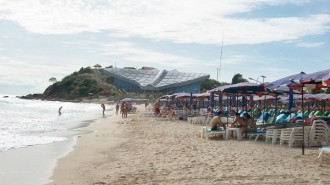 The 300 metres long Samae Beach with serene and find sandy beach, is favored by European holiday makers. A prominent feature of the beach is at the Scenic Viewing Point of Khao Nom where you would be thrilled by the exquisite setting of Koh Larn as well as the modernized and cultivated Pattaya City.
Nual Beach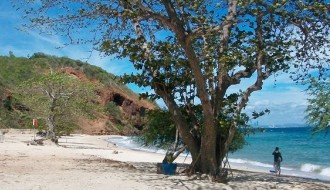 Nual Beach is situated in the south of Koh Larn with 250-meter long beach under private privilege. The beach is featured with beautiful corals attracting snorkeling lovers. Hotels are available right at the seafront.
How to get to Koh Larn?
Speed boat
With 15- 20 minutes, tourists will enjoy its riding and the beauty of the sea. Every boat is provided with life jacket for safety. The fare is about 1,500 - 2,000 Baht/day.
Passenger boat
The first boat departs at 0800 hours and from Koh larn to Pattaya city at 0800 hours. It operates every two hours with traveling time of 45 minutes. The last boat from Pattaya to Koh Larn departs at 18:30 while the last boat departs Koh Larn at 1800 hours All day fare is 20 Baht/person.