Koh Chang is the second largest island in Thailand after Phuket and part of an archipelago of 52 islands on Thailand's southern border with Cambodia. Together, with most of these small islands, around 85 percent of the island of Koh Chang is a national park. To protect its pristine beauty with rainforested peaks, white sandy beaches and clear blue waters, the government has designated Koh Chang as an area for sustainable development. This means that limited tourist development is permitted in zoned areas. Roads around the island have been upgraded and private sector operators are encouraged to build upmarket accommodation.
Five years ago there was little available for tourists on Koh Chang apart from a few beach bars and backpackers' bungalows. Now the island offers a wide choice of accommodation from luxurious private villas with their own swimming pools and spas, to cute bamboo cottages. There is also a cosmopolitan range of restaurants and nightclubs.
Koh Chang was the scene of a sea battle between the Thai and the French naval ships in 1941. The district was given national park status on the 31st of December 1982.
The best beaches are on the west coast of the island. It is where you'll find the best accommodation and nightlife, the most popular being White Sands Beach.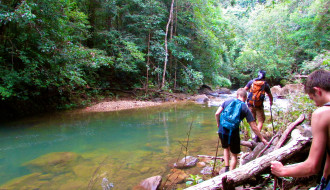 White Sands Beach (Had Sai Khao)
White Sands Beach is the longest and busiest on Ko Chang, and has the best nightlife on the island, including beach bars, jazz clubs and nightclubs. For accommodation, the beach is full of thatched huts and wooden bungalows. If you're looking for a place to stay with a bathroom, air-conditioning, television, swimming pool and sauna, there are many luxury suites and duplex rooms available. The shops, restaurants, pubs and nightclubs are situated along the main road.
Klong Prao Beach
Klong Prao has long, white sandy beach. It is steeper than White Sands but safe for swimming. The northernmost part of the beach has beautiful rocky landscape.
Kai Bae Beach
Kai Bae beach, like that of Klong Phrao, is steep but swimming is safe. You can hire canoes and kayaks and there are plenty of dive shops.
Bang Bao Beach
Bang Bao is a fishing village on stilts, is rich with coral and is a good place to fish, snorkel or swim. It also has boats for hire.