Just 200 kilometers from Bangkok​ in the Gulf of Thailand, the T-shaped island of Ko Samet is famed for its white sandy beaches, exotic coral and crystal clear waters. Ko Samet has developed steadily over the past decade or so, but it hasn't been the victim of over zealous construction which has hit the likes of Ko Samui (or even Ko Chang). The island is typified for its splendid beaches and white silky sand, surrounded by tropical coral reefs and crystal clear sea. Tourists can also enjoy a plethora of delicious cuisine and fine nightlife.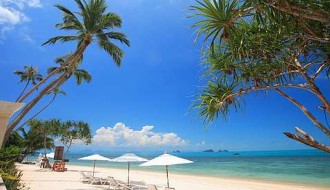 It's a popular tourist destination for Thais and foreigners alike. As Ko Samet is so near Bangkok,​the island is ideal for those in the capital wanting to chill-out with their families for a couple of days, without having to go through all that rigmarole of having to travel down south. It's only a 2.5 hour ride to Ban Phe,​where one can take a 20-minutes ferry to the island.
Most of Ko Samet, including all the good parts, is part of Khao Laem Ya-Mu Ko Samet National Park and thus has an entry fee. Thais pay 40 baht for adults, 20 baht for children (current as of June 2009); foreigners pay 200 baht for adults, 100 baht for children (current as of November 2009). This two-tier pricing policyis applicable to all national parks. If you can explain, however, that you actually live or work in Thailand, then you may not have to pay the "tourist" price. One excuse for the difference is that "Thai citizens pay taxes". If you are a teacher and work in Thailand you may bring out some form of Thai ID - Driver's LIcense, Teachers card or something like that and you will get the Thai fee.
If your ferry arrives at the main pier and you take a songthaew to the beaches, there will be a stop at the main ticket checkpoint. The journey from the pier to the town centre is a fairly short stroll, taking less than ten minutes. If your ferry arrives at one of the beaches, an officer will collect the fee as you step out of the surf. Note that there is plenty of foot traffic in and out of the park to the 7-Eleven, ATM or other shops and restaurants and if you have no bags you can nonchalantly walk into the park without anyone checking your ticket. There is a road via the temple which avoids the checkpoint entirely. Note: some bungalows might give the impression that the entry fee is included in their booking, but it is not. You may also be asked to pay the park entry fee when boarding the ferry on the mainland, but if you mention you are staying outside the park boundaries they wont make you pay.
BEACHES IN SAMET
Hat Sai Kaew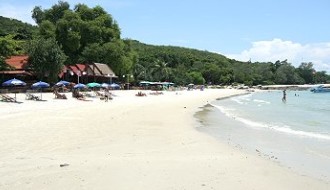 (Diamond Beach) One of the most beautiful and most popular beaches on Ko Samet, Hat Sai Kaew is 1 km long and 25-30 m wide. Most of this space is taken up with deck chairs from the restaurants. The name speaks for itself, Hat Sai Kaew, which literally means Crystal Sand Beach, is a nice beach filled with activities. Visitors can enjoy sunbathing, swimming, jet skiing, windsurfing (700 baht/hr), catamaran sailing (1000 baht/hr) a banana boat or even partying at night. It can get a bit noisy due to all the motorised activity though.
Ao Hin Khok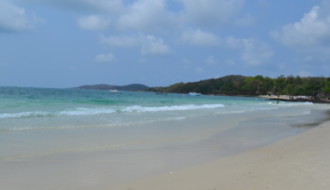 is separated from Hat Sai Kaew by a small rocky sea point where a mermaid statue is located. The beach is half the size of Hat Sai Kaew. There are some monk's accommodation along this stretch of sand that have signs asking people to be quiet. It makes for a peaceful spot just past the noise polluted Hat Sai Kaew Beach.
Ao Pai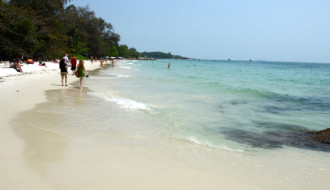 Located two beaches down from Hat Sai Kaew and just past Ao Pai. More or less of the same white, sandy stretches with a few nice restaurants at night and a big, concrete block of a bar where most party goers end up late at night.
Ao Put Sa
is a small walk from Ao Pai Beach over a small headland. Suitable for those who are tired of crowded beaches and nightlife activities. Ao Put Sa has a small pontoon with some OK snorkelling around it. Best time to stick you head under and have a look is at low tide.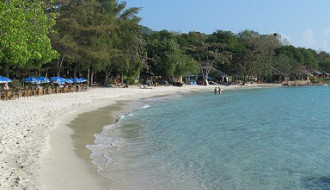 Ao Nuan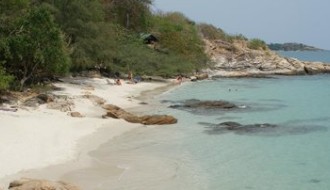 is located a 10 minute walk through the bush from Ao Put Sa and is a perfect hideaway for holidaymakers in search of tranquility. All bungalows are handmade by the owner. Some have great character.
Ao Cho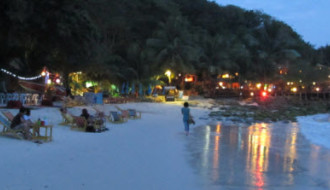 is a bit of a scruffy beach and if you have been following the "next beach" signs along the coast, you feel like you've seen better.
Ao Wong Deuan
is the second largest beach on the island (the first being Hat Sai Kaew). Ao Wong Deuan has a ferry service with the mainland. It's best to talk to one the bungalows to book this than try and find it yourself.
Ao Thian (Candlelight Beach)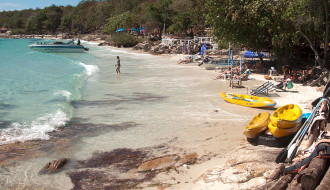 Ao Thian's topography is painted by rocky beach in which some nice spots for skin diving are available. This beach is very quiet and free from group tours.
Ao Wai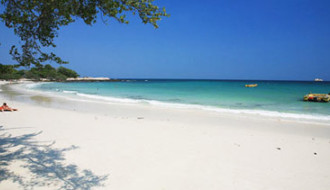 is located within a short walking distance of Candlelight Beach but far from city center and no lights at night. Shaded by coconut trees, the beach is a quite, scenic and serene spot for sea lovers.
Ao Kiu Nok
This bay is a secluded den for those planning to keep their distance from the busy, crowded beaches and vibrant nightlife. There is currently a huge resort being built with a swimming pool and the small bungalows are slowly being knocked down. The eatery isn't the best, but because it's the only one on the beach, it's pricey. From Ao Kiew Nok, visitors can walk to Ao Kiew Nai along the road, but getting a lift is better as it's hot, there's no breeze and not much to see.
Ao Karang
is at the southern tip of Ko Samet. It's very quiet down here and could be the best place to experience the traditional lifestyle of the residents of Ko Samet.
Ao Wiang Wan
is on the west of Na Dan Pier, a large bay where lots of sport activities such as fishing, etc., take place.
Ao Phrao
is one of the quietest beaches of Ko Samet. Located quite far away from the lively nightlife of Ko Samet. Ao Prow is an upmarket beach with no budget options. The blue sea, white sand and sunsets are all top notch.
Islands
Ko Kruai, Ko Kham, and Ko Pla Tin (เกาะกรวย เกาะขาม และเกาะปลาตีน)
These islands are some 600 m north of Ko Kudi. With coral reefs, tourists can enjoy fishing here. A rental boat service is available at the port in Ban Phe.
Ko Kudi or Ko Kut (เกาะกุฎี หรือเกาะกุด)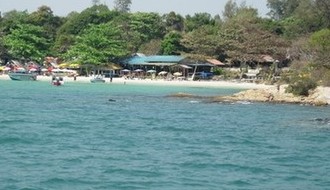 The island is on the east of Ko Samet, 6 km from the mainland. Ko Kudi totals an area of 63 rai. A nice beach and coral reefs make it a nice place for a hideaway. Nearby islands are Ko Thai Khangkhao and Ko Tham Ruesi. Without accommodation, the national park office on the island offers a tent for rent at 200 baht per person/ night. Pitching a private tent requires paying a fee of 20 baht per person/night.
Ko Thalu (เกาะทะลุ)
Some 6 km east of Ko Kudi, the island is another scuba diving site among coral reefs. The island totals an area of 69 rai, most remains lush forest. While high cliffs occupy the west, white sandy beaches occupy the east and south of the island. Ko Thalu is a habitat for seagulls, flying fox, and turtles.
Tourists visiting Ko Kudi, Ko Kruai, Ko Kham, Ko PlaTin, and Ko Thalu should rent a boat from Ban Phe or Ko Samet. They should prepare food and water, as there are neither facilities nor food supplies available on such islands.